Thursday, February 17, 2011
Logan is an eight year old boy whose father just returned home from a year long deployment from Afghanistan last month and about a week later they found out that Logan was sick. He's not sick with the flu or the common cold,
Logan is sick with cancer. He has been diagnosed with stage 4 Wilms Tumor which is kidney cancer that is found in children. It is a rare situation because Logan is really too old to have this type of cancer. He is currently going through chemo for a six week period and then the doctors will do further testing to see if they can operate on his tumor. Logan's cancer has now spread to his lungs and lymph nodes. Logan is a strong little boy who loves animals gardening and legos.
How can you help Logan? Go over to Goodnight Moon's blog. She has put together an amazing raffle with some awesome prizes. 100% of the proceeds of the raffle with go to Logan and his family to help. Many of us bloggers banded together and donated several different items to help raise money for Logan, so please go and help out as well by entering the raffle and making a donation to help out his family. You could even win a toddler blanket made by myself.
Thank you in advance,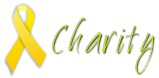 Posted by

Charity
at 9:42 AM
1 comments