Hi Everyone!,
Things look a bit different around here right? Well, I wanted to introduce myself a bit more. You read my words on this blog and now you can see me through my blog. Look around, the colors, the flowers, even the swirls and ribbon; all of this is who I am inside and out. These colors are my favorites, I even designed my house around them at one time, and now you get to see them on here. I feel like my blog is really ME now, not just me trying to get my point across, but really me.
Stephanie over at
Dirt and Lace
was so gracious to work with me and after a few days of what seemed like constant emails back and forth she ended up pulling off this amazing blog makeover for me. I can not thank her enough, this woman is talented and even works when she is sick and can barely get out of bed. I could not believe the work she was doing every time I would pull up my test blog. She has quite a bit of patience and will work with you to get things just perfect, even if it means changing header font around eight or nine times until it is just right. She doesn't want you to just settle and be okay with it, she wants you to love it and she will work with you until it is everything you dreamed up.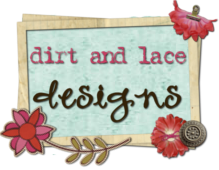 So, if you ever want to have an amazing blog makeover, head on over to
Dirt and Lace
and contact Stephanie. You won't be dissapointed I can assure you, and while you are at it grab my new blog button and pass it around :)
Refresh the page, you will get a suprise at the top.